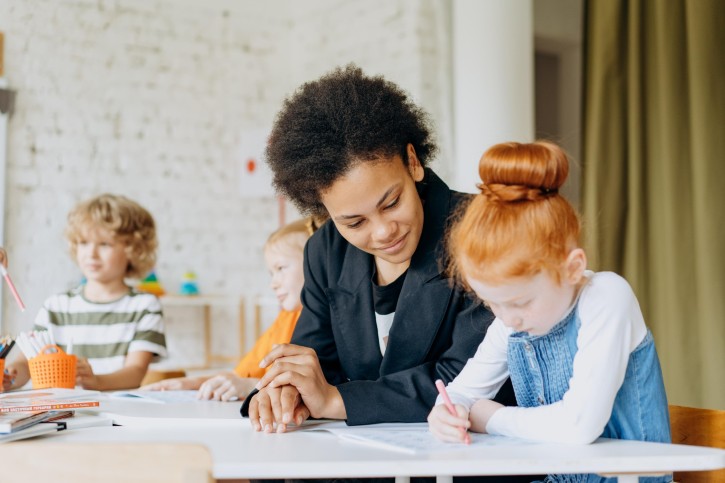 For PDF version, click here

In many countries in the Early Childhood Education and Care (ECEC) sector, staff commonly work in teams consisting of pedagogical staff, assisting staff and one or more centre leaders. These teams are conceptualised differently from country to country and are increasingly marked by heterogeneity (e.g. Oberhuemer & Schreyer 2017; OECD 2019). In ECEC teams, heterogeneity can refer to staff roles and functions, to their qualification levels and specializations, and also to personal characteristics such as age, experience or language and cultural background.
Research in the German context, for example, has highlighted two contrasting perspectives on team heterogeneity. On the one hand, it is considered enriching for the work with children if team members bring in different competencies and backgrounds. Further, supporting a variety of roles and functions within the ECEC setting is viewed as having a positive effect on professional opportunities, offering potentially new career paths and thus making the work place more attractive. On the other hand, there are studies that emphasise the challenges of team heterogeneity. Fröhlich-Gildhoff and colleagues (2021), for instance, analysed multi-professional teams in ECEC settings and showed that over time the well-being of staff with a relevant pedagogical qualification decreased if they worked in teams that included members with a non-typical qualification (e.g. physiotherapists). In these multi-professional teams, a lower level of process quality was also observed.
These findings indicate that it is necessary to look at team concepts which support heterogeneous teams more closely. What kind of support structures (e.g. professional development or collaborative learning activities) do heterogeneous teams need in order to be able to promote children's development, learning and well-being in the best possible way? Recent findings, for instance, show that shared visions and supportive leadership are key factors in successfully striving for high process quality while including different career paths under one conceptual approach (Weltzien et al. 2016). Especially in countries with staff shortages in the ECEC sector, this could be an important issue that needs to be addressed when seeking solutions on how to build a team with different competencies and backgrounds.
These and other challenges can be met by approaches that establish systematic and/or sustainable team concepts which consider team heterogeneity as a resource, allow different staff members to use their individual skills and qualifications for the best possible benefit and which allow staff to regularly engage in informal and formal learning. Undoubtedly, the implementation of such concepts also requires the support of the setting provider and proactive leadership (e.g. Cloos & Weltzien 2019).
With this thematic issue "Team Concepts in ECEC" we plan to take a closer look not only at the composition of teams, but also at established and innovative team approaches in a variety of countries. Understanding how these concepts evolved and discussing the potentials and challenges of their implementation in everyday practice is our main aim.
Against this background, your contribution could cover questions in the following areas:
Policy
Which regulations or guidelines regarding qualification requirements, team composition and division of labour are in place in your country? How are these related to the societal, historical, cultural and economic background of ECEC in your country? Have recent relevant reforms taken place? Do debates exist which, for example, address the dilemma of enhancing professionalism and handling staff shortages at the same time?
Team concepts in the daily work of ECEC centres
Which team concepts are typically practised in your country's ECEC settings? Which aspects do these team concepts include (e.g. professional development, forms of collaborative learning, specialisations of staff and roles, hierarchical/non-hierarchical structures, life-phase oriented approaches)? Are trends visible and what are the reasons for these trends? How can staff with a specialised or non-typical qualification (e.g. speech therapists, nurses, specialised teachers etc.) be integrated into the team in order to contribute to high quality? What are factors contributing to and hindering teamwork? What conflicts are apparent?What different leadership models exist that take heterogeneity in teams into account? What demands do heterogeneous ECEC teams place on personnel management and personnel development?
Aspects regarding different quality dimensions and/or professional beliefs
Are studies available for your country that investigate staff's attitudes towards heterogeneous ECEC teams or specific team concepts? Are findings available for your country that report of links between heterogeneous ECEC teams or specific team concepts and process quality, staff well-being or other aspects of quality?
Your Submission
Please note that abstract submission for the special issue is over.
Invited authors should submit their full manuscript by 30th of Nov, 2022.
We look forward to your submission!
Kind regards from the editorial board
Dr. Pamela Oberhuemer, University College London, Thomas Coram Research Unit
Birgit Riedel, Rahel Warnatsch and Samuel Bader, German Youth Institute
Literature
Cloos, P. and Weltzien, D. (2019). Auf dem Weg zur multiprofessionellen Kita. Kita aktuell Spezial, 20 (4).
Fröhlich-Gildhoff, K., Weltzien, D. and Strohmer, J. (2021). Unterstützungspotenziale für multiprofessionelle Teams in Kindertageseinrichtungen. Zentrale Erkenntnisse einer Längsschnittstudie in Baden-Württemberg. Frühe Bildung, 10(1), 4–15. https://doi.org/10.1026/2191-9186/a000505
OECD (2019). Providing quality early childhood education and care. Results from the Starting Strong Survey 2018. Paris: OECD Publishing.
Oberhuemer, P. and I. Schreyer (Eds) (2018). Early Childhood Workforce Profiles in 30 Countries with Key Contextual Data. Munich: Staatsinstitut für Frühpädagogik. http://www.seepro.eu/ISBN-publication.pdf
Weltzien, D., Fröhlich-Gildhoff, K., Strohmer, J.; Reutter, A. and Tinius, C. (2016). Multiprofessionelle Teams in Kindertageseinrichtungen. Evaluation der Arbeitsprozesse und Arbeitszufriedenheit von multiprofessionell besetzten Teams in Baden-Württemberg. Weinheim und Basel: Beltz Juventa.