Rethinking early childhood workforce sustainability in the context of Australia's early childhood education and care reforms
International Journal of Child Care and Education Policy
2015
9:2
Received: 3 June 2014
Accepted: 15 January 2015
Published: 11 March 2015
Abstract
Early childhood workforce sustainability is an important issue, with implications for children, families and national productivity, as well as for educators themselves. Yet, in many national contexts, workforce challenges continue to undermine efforts to support sustainability. In this article, we evaluate efforts to address early childhood workforce challenges in the Australian context, where extensive early childhood reforms are underway. We argue that attempts to address workforce challenges in current policy initiatives are limited and may be insufficient for sustaining the early childhood workforce in the long term. Given the critical role that the early childhood workforce plays in Australia's early childhood reform agenda, we then consider how workforce sustainability could be rethought and other possibilities generated for addressing entrenched workforce challenges. We conclude by arguing that greater attention to the everyday politics of educators' practice, along with the forces shaping these milieux, may be a way of generating new possibilities for supporting workforce sustainability.
Keywords
Early childhood educationEarly childhood educatorsEarly childhood teachersPost structural theoryAustralia
Background
Early childhood educatorsa [referred to hereafter as 'educators'], and the workforce they comprise, are critical to 'universally accessible, high-quality ECE provision' (International Labour Organization 2014, 6) that best supports good outcomes for children, families and economic productivity (Organisation for Economic Co-Operation and Development [OECD] 2006; Gable et al. 2007). Yet, across many national contexts, challenges in attracting and retaining educators for many parts of the prior-to-school sector (all education and care that occurs before formal schooling begins) make it difficult to sustain the workforce over time. An extensive body of research concerned with workforce challenges has consistently suggested that to be effective, policy efforts need to address multiple challenges at setting, community and policy levels (as reviewed by the Institute of Medicine and National Research Council [IofM and NRC] 2012). However, as we discuss below, rather than taking a comprehensive approach, many policy initiatives tend to address only some aspects of workforce sustainability.
In Australia for example, efforts are being made to address workforce challenges as part of the extensive early childhood reform agenda that is currently being implemented. An illustration of the parts of the reform agenda specifically concerned with the workforce appears in Figure
1
(below). As this figure shows, the
Early Years Workforce Strategy
(Standing Committee on School Education and Early Childhood [SCSEEC]
2012
) is a key part of the broader approach to early childhood sector reform. The workforce strategy frames a range of initiatives, providing funding support for educators to gain or improve their qualifications, and (to a lesser extent) support ongoing professional development and recognition. Workforce sustainability is a central tenet of the workforce strategy - as evident in its aim to: 'deliver a sustainable, highly qualified and professional workforce' (SCSEEC
2012
, 3). The qualifications and professionalism foci of the workforce strategy (and its initiatives) are likely to go some way to addressing the identified skills and staff shortages in early childhood education roles in Australia (Bretherton
2010
). However, given what is known about effective approaches to workforce sustainability (also detailed further below), we argue that the approaches offered by the Australian Workforce Strategy and initiatives are limited and may prove insufficient to sustain the early childhood workforce in the long term.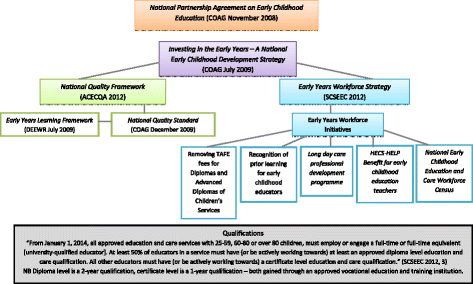 Nevertheless, developing a capable and effective early childhood workforce is still critical to achieving the goals of the early childhood reform agenda (Council of Australian Governments [COAG] 2009a). Accordingly, to open other possibilities for addressing entrenched workforce challenges and supporting workforce sustainability, our purpose in this article is twofold. Our first purpose is to speculate about the likely effectiveness of Australia's early childhood workforce strategies; our second is to think differently about concepts of sustainability and the politics of educators' practice and consider how these might assist in generating other possibilities.
We begin our discussion with a brief review of international literature concerned with commonly documented challenges relating to the early childhood workforce, in order to highlight the scope and complexity of these challenges. Next come details of some of the context and content of Australia's early childhood reforms, with a focus on parts of the reforms relating to the early childhood education workforce. We then profile Australia's early childhood workforce, including some of the key workforce challenges faced in the Australian context. This is followed by a critical reading of the Early Years Workforce Strategy (SCSEEC 2012), informed by research literature concerned with connections between workforce qualifications, retention and professionalism. In particular, we highlight what we see as some potential limitations of the workforce strategy for the long-term sustainability of the early childhood workforce.
In the final section of the article, we offer ways of thinking differently about sustainability. In particular, we consider how a process-oriented conceptualisation of sustainability (rather than one assuming sustainability can be 'delivered' (SCSEEC 2012, 3) might inform efforts to address entrenched workforce challenges. We also draw upon Deleuze and Guattari's (1987) ideas about flows of micro- and macro-politics to suggest the potential of micro-politics of educators' practice as a means of thinking further about the macro-politics of workforce sustainability. We conclude by offering suggestions for research attending to 'less tangible' aspects of educators' practice, and the politics of their negotiation, as a way of continuing to think differently about workforce sustainability and perhaps to generate new possibilities for supporting it.
Endnotes
aIn this article, early childhood educators (or 'educators') are practitioners (regardless of level of qualification) who '…work directly with children in early childhood settings' (Australian Government Department of Education Employment and Workplace Relations 2009, 5).
bCOAG is comprised of Australia's federal government, along with its six states, and two territory governments.
cEven in 2013, Australia's investment in early childhood education was still only around 0.4%. This is 0.3% lower than the OECD average (Organisation for Economic Co-operation and Development 2013) and 0.6% lower than the minimum recommended by (UNICEF 2008).
d'Approved care services (the dominant category of care) are those long day care, approved by government as meeting the eligibility standards and requirements to provide care for the purposes of Child Care Benefit (CCB). Long day care, family day care and outside school hours care are also required to satisfy the National Quality Framework. Approved care attracts both the Child Care Rebate (CCR) and CCB for those that use it' (Productivity Commission 2014, 77). Other non-mainstream services offered as part of the early childhood sector include: mobile child care services, Multifunctional Aboriginal Children's services (MACS), indigenous playgroups, outside school hours care, flexible services and indigenous enrichment programmes and crèches (Productivity Commission 2014, 92).
eWe conceptualise discourses as codified, sometimes dominant ways of thinking and speaking about things. Discourses can have productive as well as repressive potential.
fFeatures identified by Whitebook and Ryan included: the impacts of 'variations in staffing patterns and the background of other teachers' or 'the degree of support in the workplace for ongoing teacher development through policies related to mentoring, professional development opportunities and paid planning and meeting time' (2011, 6).
g'Areas of high need are defined as regional or remote areas, indigenous communities, or areas of high socio-economic disadvantage based on postcode location' (DE 2014).
h'The Productivity Commission is the Australian Government's independent research and advisory body on a range of economic, social and environmental issues affecting the welfare of Australians. Its role…is to help governments make better policies in the long term interest of the Australian community. [In particular] the Commission's focus is on ways of achieving a more productive economy' (Productivity Commission n.d.)
iDeleuze and Guattari's (1987) concepts of the micro- and macro-political are not sociological categories such as structure and agency that can infer an essential hierarchy and set of relations. Rather, they are types of movements - that regularise, organise and sometimes limit possibilities (macro-political movements) and that disrupt and reshape stabilisations (micro-political movements). These movements are understood to be mutually engaged in relays of stabilisation, de- and re-stabilisation that create the conditions of reality.
Declarations
Acknowledgments
The authors gratefully acknowledge the extensive comments and suggestions given by peer reviewers of this article.
Authors' Affiliations
(1)
Research Institute for Professional Practice, Learning and Education, Charles Sturt University, Wagga Wagga, Australia
(2)
School of Teacher Education, Charles Sturt University, Bathurst, Australia
Copyright
© Cumming et al.; licensee Springer. 2015
This is an Open Access article distributed under the terms of the Creative Commons Attribution License (http://creativecommons.org/licenses/by/4.0), which permits unrestricted use, distribution, and reproduction in any medium, provided the original work is properly credited.