Governance of Education Related ECCE Policies in Malaysia
International Journal of Child Care and Education Policy
2015
4:40010045
Published: 20 February 2015
Abstract
Early Childhood Care and Education (ECCE) in Malaysia is catching much more limelight now than in the past. In a country where governance is very centralized, such attention has given rise to more quality preschool classes and initiatives. Comprehensive policies have been developed and implemented, however studies have shown that there are gaps between the aspired and the implemented. Good governance ensures successful implementation of policies. Good governance requires the authority and other stakeholders to focus on the vulnerable population including the indigenous people, children with special needs and refugee. Providing effective dissemination of policies, maintaining a sustainable mechanism of monitoring, attention to coordination and integration are tasks at hand to ensure successful implementation of policies. The ECCE Policy Implementation Review initiated by UNESCO and UNICEF has provided much evidence-based input to tackle these issues. This paper provides a situation analysis of the status of ECCE in Malaysia based on the findings of ECCE Policy Implementation Review.
Key words
governanceearly childhood policyMalaysia
Introduction
In the traditional multiracial society of Malaysia, children though expected to be submissive to their elders are always treated as jewel of the community who would carry on the culture and collective wisdom of the people as well as propel the country to greater heights. As such, education plays a major role to mould and prepare these children. The field of Early Childhood Care and Education (ECCE) in Malaysia has in the past prospered mainly through the effort of the local communities, religious bodies, private entities and also charitable organisations. However in the last two and a half decades more regulatory measures and rigorous initiatives in the form of policies or programs have been taken up by the government. There is also a progressively increasing amount of funding given to ECCE each year either from the public or private sectors. Milestones that have been achieved in ECCE includes the signing of the Convention on the Rights of the Children (CRC), the enactment of Child Act, the inclusion of preschool eduction (4–6 years old) as part of the formal education system through the Education Act 1996. A much awaited milestone that is acoming is the admendment of Education Act to include childcare and education for 0–4 years old within the national education system.
There are four main areas in the policy process; these are policy planning, policy development, policy implementation and evaluation of policy implementation. Among all these, policy implementation has been generally accepted as the most critical area in the field of ECCE especially in developing countries such as Malaysia. Three major concerns in policy implementation are governance, finance and costing. In many countries including Malaysia, many comprehensive policies are in place. However the implementation of these policies is less than satisfactory. This paper focuses on issue of policy implementation specifically on the governance of policies for care and education of the 4–6 years old.
Current Status of ECCE in Malaysia
ECCE in Malaysia is broadly divided into two main groups, the 0–4 years old and the 4–6 years old. ECCE for the 4–6 years old group falls under the responsibilities of three Ministries, i.e. Ministry of Education (MOE), Ministry of Rural and Regional Development(MRRD), as well as Department of National Unity and Integration(DNUI). ECCE for the 0–4 years old currently is mainly the responsibility of Ministry of Woman, Family and Community Development (MWFCD) and MRRD.
MRRD is the pioneer in setting up preschools in Malaysia (beginning early 1970's), these preschools are commonly known as the KEMAS preschool. KEMAS preschools are located in rural or suburban and are set up based on request by the local community. In the late 1970's DNUI set up preschools in the urban areas where there are '
Rukun Tetangga
', a friendly neighborhood scheme, these preschools are generally known as the PERPADUAN preschools, PERPADUAN preschools accept students from the different races into a class and parents from different racial background form the board of governance. MOE is the latest in setting up preschools. In the year 1992, 1131 preschool classes were set up by MOE in the form of pilot project as an annex to the existing primary school. Beginning from the year 2003, MOE preschool project rolled out to whole nation, increasing 500 to 1500 classes per year in the primary school. Other providers of preschool education include religious bodies and private sectors. Various names are given to preschool education in the local language such as
tadika, tabika, prasekolah
. To facilitate discussion, all would be known as preschool in this paper. Table
1
and Diagram 1 provide an overview of number and percentage of preschool students enrolled in the various types of preschools.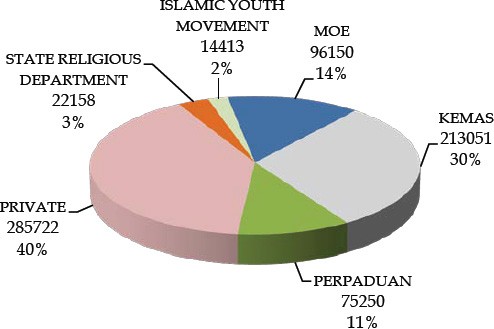 Table 1
Types of Public Preschools in Malaysia (2010)
| Types of preschool | MOE | KEMAS | Private | PERPADUAN |
| --- | --- | --- | --- | --- |
| Enrolment of children age 5+ | 156192 | 84548 | 81078 | 20888 |
| Percentage (%) | 45.58 | 24.67 | 23.66 | 6.10 |
ECCE Policy Implementation Review
ECCE Policy Implementation Review is a UNICEF and UNESCO initiated research project with the broad aim of bringing forth the message of the importance of ECCE and the need to further develop and streamline ECCE related national policies. The main objectives of ECCE Policy Implementation Review are to assess how well the existing policies are being implemented and to find out gaps of implementation.
This research used both quantitative and qualitative methodology. While the quantitative data provided a comprehensive situation analysis of the current status of ECCE policies implementation, the qualitative data seek for explanations and reasons for certain performance revealed through the quantitative data. Questionnaires were administered, interviews conducted, focus group discussion conducted, classroom teaching observation made and analysis of documents conducted.
The ECCE policies in Malaysia especially those related to the preschools have been implemented for at least 5 years. Related government agencies have already embarked to study its implementation.
ECCE Policy Implementation Review
did not intend to reinvent the wheel but rather consolidate and build on findings from the on-going or just compeleted studies as shown in Table
2
. Brief overview of each of these studies is provided in the same table.
Table 2
Overview of recently completed studies on ECCE in Malaysia
| No. | Research/Study | Overview of the research/study |
| --- | --- | --- |
| 1 | Mid Decade Assessment of Education for All — Goal 1: Expand early childhood care and education — A UNESCO project. | All stakeholders involved with ECCE in Malaysia cooperated in this project. Data was collected extensively from existing documents and focus groups discussions. |
| 2 | Evaluation of Preschool Program - conducted by Education Planning and Research Division (EPRD), MOE in 2007/8 | Areas of concern: Enrolment of children, quantity and quality of basic facilities, implementation of National Preschool Curriculum (NPC) |
| | | Respondents: 890 respondents from various public and private preschools |
| | | Instrument: Questionnaires |
| 3 | Implementation of National Preschool | Areas of concern: Implementation of NPC |
| | Curriculum in MOE preschools | Respondents: MOE preschool teachers |
| | - conducted by Curriculum Development Division (CDD), MOE in 2007/8 | Instruments: Questionnaires (3700 respondents), classroom observations (28 observations), interview (28 interviews) |
From the findings of the above studies, various issues of concern were discovered. More in-depth data was deemed as necessary in order to shed lights onto these issues. The following smaller scale studies as listed in Table
3
were then conducted.
Table 3
Additional studies conducted to supplement data obtained from research conducted in Table 2
| No. | Studies | Overview of the research/study |
| --- | --- | --- |
| 1 | Participation and implementation of NPC by private preschools | Areas of concern: Understanding of NPC, issues faced by private preschools |
| | | Respondents: Private preschools teachers and operators, government officers, members of ECCE related NGOs |
| | | Instruments: Questionnaire (22), interviews (4), school visits (2), focus groups discussions (3), document analysis |
| 2 | Participation of indigenous children in MOE preschools | Visits to three centers |
| 3 | Teaching and learning in MOE Special Education Preschool | Questionnaires were filled up by teachers teaching in Special Children Preschools |
| | - conducted by Special Education Preschool Unit in collaboration with CDD | Observations and interviews on 4 teachers conducted by Special Education Preschool Unit officer |
| 4 | Coordination and integration in ECCE | Respondents: officers from various departments and Ministries involved in ECC, NGOs, private preschools operators |
| | - conducted by CDC | Methodology: Focus group discussions (2 sessions), interview (6 persons), questionnaire (11 answered) |
| 5 | Visit to KEMAS preschool | One KEMAS preschool was visited |
| | | 2 KEMAS teachers and 1 district supervisor were interviewed |
| 6 | Visit to PERPADUAN preschool | One PERPADUAN preschool was visited |
Issue of Governance in ECCE Policy Implementation
Govern in a legal sense and from a nation's perpective carries the meaning of 'controlling' the people through the introduction of constitution, laws, and regulations using the mechanism of organized public services. The reason for control is usually for a particular noble purpose. Governance lays out roles and responsibilities of each stakeholders as well as line of authority (Britto & Ravens, 2009). Policy implementation depends on this mechanism of governance; good governance always leads to effective implementation of the policy. Issues related to governance of policy include sustainability of policy, inclusiveness in planning and implementation of policy, attention to vulnerable population, dissemination of policy and program, accountability in governance, coordination of policy implementation and funding. The following sections will deliberate on some of these issues using findings from the ECCE Policy Implementation Review as well as other sources of information.
Conclusion
Good governance is essential in implementation of policies especially for a comparatively new area such as ECCE which involves cooperation and coordination among multiple sectors. Good governance requires informed decision which can only be made with reliable and valid interpretation of data. In this regard studies such as ECCE Implementation Review have been very useful. It has successfully identified gaps in the implementation of existing ECCE policies. It has also provided evidence for Malaysia to plan ahead to achieve Goal 1 of Education for All which is expanding and providing quality early childhood care and education to all children of Malaysia. The ECCE frontiers in Malaysia is vibrant and very hopeful currently, much is happening and is going to happen to close the gaps that has been identified in the implementation of ECCE policies. With such evidence-based transformation, the way forward is focused and clear.
Authors' Affiliations
(1)
Early Childhood Care and Education Sector, Curriculum Development Division, Ministry of Education, Putrajaya, Malaysia
Copyright
© Korea Institute of Child Care and Education 2010